We have come to the midway point of the season and it's time for some conclusions. After 19 rounds in La liga, Barcelona have 55 out of 57 points, 18 wins and 1 draw - A new all time record in the history of La Liga. But it hasn't been always the easy ride for Barcelona. Out of those 19 games, they have struggled at least half of them and not because the teams have been ultra defensive, but because they have put pressure on barcelona, pressing high up the pitch and making their build up difficult. Last season Barcelona struggled to finish off the games when under pressure, especially away to home but this haven't been the case this season because of the smart decisions by Tito Vilanova at the end of the games, like using David Villa as CF against Sevilla Of Course they have been fighting with injuries all season long, especially in defence. Thats the main reason why they have had 7-8 different form of defences, from Puyol-Pique to Adriano-Mascherano. It's been the depth and good decision makings that have been the success this season.
In year 2013, Barcelona have had only 2 games so far, Espanyol at home and Malaga away. Those two games have been arguably the games of the season. Why? Bacause It's been the same line up for two consecutive games, apart from Mascherano replacing Puyol, which doesn't change the dynamic very much.
So lets see the starting XI and why it works so well.
The line up for Malaga game.
Valdes - Alves Pique Mashcerano Alba - Xavi Busquets Cesc - Pedro Messi -Iniesta
This is the linup for the last two games, only Puyol was ahead of Mascherano in the Catalan derby. What Tito have done so well is that he has integrate Cesc-Iniesta-Xavi in the same line up so well. And the key here might not be even in those 3 midfielders, but the summersigning Jordi Alba. Why? Because he is the one who's workrate allows Iniesta to come inside and Alba to provide the width.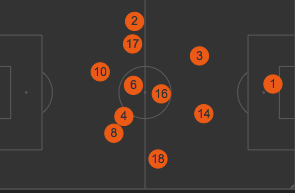 Barcelona players average positions during the Malaga game.
1.
The key of positional play is to always form triangles. When you look at the heat map you can clearly see 3 pairs of players there. Cesc+Iniesta, Xavi+Busquets and Alves+Pedro. Add Messi, who acts like a free agent during the match who has the freedom to move around, to any of those pairs and you have the perfect triangle. Either Messi+Iniesta+Cesc, Messi+Xavi+Busquets or Messi+Alves+Pedro. Now thats a good weapon to comtrol midfield.
This is one of those triangles.
2. Pedro+Alves
When you look at the heatmap it might be pretty surprising that a striker and a defender are horicontally at the same level of the picth, but to observe more closely you can see why. As the moto of Barcelona says "We are the attackers who defend and defenders who attack" Pedros very high workrate can help Alves in defence, he covers a lot of distance during a match, but so does Alves who is always bombing forward to provide the width. Pedro this season is more allowed to drift into middle and make runs behind the defence to create a mess there and drag defenders away. At the end of the video you can see that after losing the ball that Alves and Pedro are both the furthest players on Barca's side but what the whole team does now is that they all make it very compact on the right flank, only iniesta is on the other side of the field, everybody else are 10-20 meters from the sideline. Busquets is the key man here because his role is always to cover the full back positon and as you can see he is doing it very well once again, covering the space of Alves and cutting the passing lines (Isco and Joaquin)
.
3. Cesc+Iniesta. and Alba
Barcelona tried to find a spot to Cesc last season, was it a false 9 or whatever, it alwyas seemed that he wasn't happy and it couldn't fit with his anarhic playing style. This season, since the sevilla game, he has been absolutely superb and one of the reasons for it is that he seem to finally integrating to the squad. This is the position where he has the most freedom which suits with his playing style. He can make runs from deep there, he can combine with both Xavi and
Iniesta
there, he can switch positions with Iniesta(2-0 goal) he can
run with the ball.
As for Iniesta, he said that he don't like to play on the wing very much but with this formation he can always drift inside with either
Alba
or
Cesc
taking his position there. Also Alba's
overlaping runs
is another weapon to use. Over the years it has always been the right side where most of the attacks came from, but this season it has been the left flank, mainly because of those 3 players who can combine very well there.
4. Xavi+Busquets
Pellegrini before the game:
"I know that Messi scores a great number of goals, but it is the Xavi philosophy that is so important"
When you look at the heat map, you can see symbolically that Xavi is at the hearth of the pitch. Thats exactly who is is, always in the centre of everything. Everything goes trough him.
While Busquets is clearly the underrated hero in todays football. Thats what Pique & Vilanova said after the game:
"For a defender, it's great to play with Busi. Technically he's great and tactically he's outstanding, he's good at reading the game" Vilanova: "Busquets was fantastic. He is very intelligent, he quickly saw Joaquin caused us problems. He acted as coach and solved it."
Since last season, Xavi often drops deep, much deeper than usually to link up with Busquets to start building the attacks. This clip defines everything about Xavi & Busquets. Defensivly Busquets is always ahead of the back 4 and covering the playmaker (Isco). When they got the ball, Xavi drops deeper to combine with Busquets, so Iniesta and Cesc could move up the pitch. One thing that you can see there as well is that Busquets has improved a lot his vertical play this season. He can find quickly with one touch a player between the lines, often Messi. As the play goes on, Xavi goes more forward, to dictate the play, to make runs, to keep the ball moving and always involved in the play, Busquets will stay behind to cover the space behind for counter attacks. He reads the game so well so he can stop the attacks very quickly.
5. Defence
Barcelona conceded a lot of goal in the first half of the season. That shows you how important is to have the same defence that works out and can play more than 1 game together. Pique is very very important for Barca. He is one of the few tall players on the side so his height is vital in set pieces. But he is also very good with the ball and important in the build ups. Also he makes his CB partner Mascherano a much better player. Mascherano have always played in midfield, as a midfielder who wins you balls. I think Pep Guardiola has done a great job to integrate him as a world class defender now. But still his game has flaws which could come out especially when he doesn't have a natural CB around him, like Adriano, Song or Busquets. It's in his nature to read the game in a way so he could come from behind and steal the ball in front of you . He is the best sliding tackler in the world but even if he gets it right, he still leaves space behind, so you need a natural defender who could cover it, like Pique in this case. But without any doubt Mascheranos aggressivness is vital for the team to get the ball back in less than 6 seconds. And of course as a (former) midfielder he has the ability to build the attacks, run with the ball, beyind comfortable on ball... He has barely make any mistakes in his Barcelona career that have lead to goal. This is something remarkable for a player in this position. He is not allowed for any mistakes because often he is the last man and mistake could lead straight into goal.
Alves & Alba are the full backs with unbelivable workrate. When they run up the pitch, they could see themselves running back down it. And with Busquets always covering their spaces when they are high up the pitch it is vital for the team to create width and allows Iniesta & Pedro to come inside where they are more dangerous. And with Busquets always covering them, they can can make press right after losing the ball without afraid that their place could be exploit.
With this starting XI and this squad, when you still have world class players to take off the bench, this Barcelona team could be better than ever this season. With Tito Vilanova in charge he has given the team a bit more freedom and directness. They already had plan a, b and c. but this season they have even more trick up their sleeves, especially with Jordi Alba and Cesc Fabregas. If the team could stay injury free the whole season, they could easily repeat the 08/09 season.